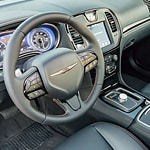 One of the hottest and most sought-after sedans that money can buy is known as the Chrysler 300. This luxury sedan will perform as good as it looks. Consumers can expect a 3.6-liter V6. Rear-wheel drive and all-wheel drive systems are available. Let's dive into some of the available technologies.
The 2020 Chrysler 300 is geared with many tech advancements. These advancements are designed to give you a more exhilarating drive. Up to eight devices can pair with the available 4G LTE Wi-Fi Hotspot. You and your passengers can check email, visit social media sites and much more. The 2020 Chrysler 300 is also equipped with smartphone integration. Hands-free function can be utilized via Bluetooth connectivity. This car has it all and goes even further by providing a myriad of entertaining channels via SiriusXM radio.
Want more in-depth details? If so, then our associates are at your beck and call.