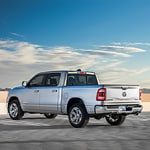 Curious as to what this year's popular light duty pickup truck is capable of? The new RAM 1500 has much to offer in the way of ability and functionality.
If it is functionality you seek, the RAM 1500 offers that and then some. With a flatbed that opens various ways, you can load your cargo much easier than ever before. Its doors swing out and fold downward at 88 degrees, which allow you to climb in or slide supplies up quickly and easily. Moreover, the RAM 1500 is made from 98% steel and is able to carry up to 2,300 pounds in its flatbed. If that isn't impressive enough, this mammoth of a truck can also tow up to 12,750 pounds when equipped correctly.
All in all, the RAM 1500 is a go-to vehicle for towing capacity and multi-functional use. As such, it is the perfect vehicle for challenging jobs and even for light-duty work. It doesn't really matter what your need for it is, the RAM 1500 is a vehicle designed to work for you.