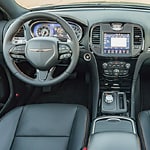 The Chrysler 300 is a luxury sedan that's a true pleasure to drive. It comes with two different engines, both of which will make your daily drives much more exciting.
We carry four trims of the Chrysler 300 at Bear Chrysler Dodge Jeep Ram. One of them, the 300S V8, gets to have a V8 engine. This V8 is a sizable engine, as it has a displacement of 5.7 liters. This engine is able to generate 363 horsepower and 394 pound-feet of torque.
All the rest of our trims use V6 engines. It's not as if these engines are small by any means. They have displacements of 3.6 liters. They're able to make 300 horsepower and 264 pound-feet of torque. What's really great is that the V6 is available with all-wheel drive. With the V8, you'd only have rear-wheel drive. Either way, the Chrysler 300 can handle itself very well in a variety of situations.