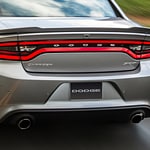 The Dodge Charger remains an impressive-looking mid-size sedan. Buyers don't want to only look at a Charger. They envision driving one to work, stores, and other destinations. Bear Chrysler Dodge Jeep Ram realizes many buyers are cost-conscious, so they should look at a Charger's fuel efficiency figures. This Dodge model might deliver on a buyer's mileage expectations.
When traveling on highways, the Dodge Charger may top out at 30 miles per gallon. In city driving conditions, a Dodge Charger gets about 19 miles per gallon. The stop-and-go traffic associated with congestion, stop signs, and traffic lights reduce the mpg from what drivers would get on the highway.
Berwick drivers could take additional steps to increase fuel economy. Routine maintenance, engine cleanings, and removing excess weight from a car might help.
Overall, the Dodge Charger delivers impressive fuel efficiency for a model with such significant horsepower and torque. The power doesn't come with heavy gas-guzzling, which could be a huge plus for shoppers.